Although Szafnauer has had a rough few weeks at the center of the F1 driver market since Alpine lost Fernando Alonso and Oscar Piastri, Rossi has nothing but praise for him.
Rossi says that despite what happened on the driver side, which still has the team upset over Piastri's lack of loyalty, he is convinced that Szafnauer is helping boost Alpine's competitiveness since he took the helm in March. .
And while some say Alpine has dubious management that doesn't help, Rossi says things are absolutely clear internally now that the team has settled down.
"Otmar is the boss, and he has always been that way since he arrived," explains Rossi.
"We had a transition period to change a couple things, but Otmar is certainly one of the hires that I'm most proud of."
"He has been fulfilling every day since he arrived, and he is the boss. On issues such as the drivers, we work closely, so we knew all the news."
"Sometimes we would agree on maximums, limits, borders, because of course we have to be united on that, and I need to know what's going on. But there was no real disconnect between us."
Although Rossi has not been as much in the public eye this year as before, he believes that is a consequence of his choosing Szafnauer as team principal.
Until 2021, the team had a management structure with three bosses: Rossi himself, previous CEO Marcin Budkowski , and race director Davide Brivio .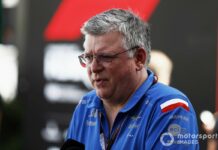 Otmar Szafnauer, director of Alpine F1
Over the winter, Budkowski left the team and Brivio moved into a new role overseeing Alpine's young drivers and other competitive projects.
With Szafnauer, Rossi says it was always his intention to take a step back, and that he wants to be less involved in Formula 1 from now on.
"Last year I was very involved in the team, especially because there was no team manager," he said.
"There needed to be a director, and I needed to understand how the team works before making the changes I wanted to make, which is what I've done."
"I think they are working: and on the track we deliver, which by the way, is the most important thing in this sport. So I have to take a step back."
"This year, for example, in the first half of the season, I was here about every two grands prix out of three, it's still too much. Between now and the end of the year I'm going to be here at one grands prix out of three, maybe even less. And that's normal."
"I have 17 reports to do, including one for F1. I have to create cars, I have to expand the dealer network. I have to think about go-to-market strategies, marketing and brand building. The others 16 reports are as important as the one in F1, maybe even more, because at some point it is going to be financed. So it is normal that it disappears a bit.
"In the same way that Luca [de Meo, CEO of Renault] is not always on top of me because he knows all the important decisions, I never make a critical decision without him intervening, or at least approving it or giving his opinion.
"Otmar and I work the same way. I'm just connected to him and I know everything that's going on."
"Otmar is the boss. I fully trust him and he is doing an excellent job. So he gives me that peace of mind and I am confident that he will continue to grow the team."