An unusual duo and yet the two of them record a podcast episode together: Florian Silbereisen unpacks some private details for Bülent Ceylan.
Munich – you know both of them, but seeing both together in one format or even as good friends is not necessarily the first thought – and yet it is so. We're talking about comedian Bülent Ceylan and hit star Florian Silbereisen *. In a podcast that Ceylan has together with the FFH radio editors Boris Meinzer and Dirk Haberkorn, he gets Silbereisen to try something completely new and have a good chat.
Florian Silbereisen celebrates podcast premiere – and chats from the sewing box
You could already guess that the two are not unknown to each other. After all, Bülent Ceylan * appeared in the programs "Schlagerboom" and "The Advent Festival of 100,000 Lights" *, hosted by Silbereisen. In the podcast's Christmas special on December 17th, however, the two turned out to be really good friends.
Apparently, the two get along so well that Silbereisen was a guest on Ceylan's podcast, although he has never "felt so much boredom" in his life that he started a podcast. It is even the first time that he has taken part in a podcast – a premiere, so to speak.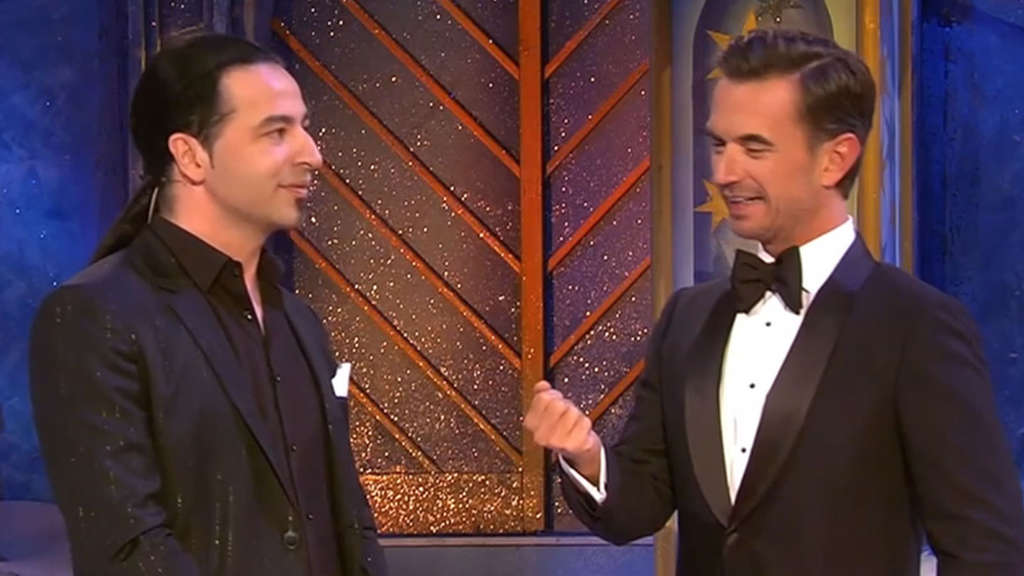 "You have unhitched our friend," says radio editor Meinzer about the Schlager star. Silbereisen laughs and replies that they "didn't look for each other, but found each other". It all started when he took over the role of captain in the "dream ship" *. He wanted "surprising faces" for the show, there is no getting around Bülent Ceylan. His ex-girlfriend Helene Fischer * forwarded the number to him. And indeed: Ceylan agreed, the episode will be broadcast on ZDF on December 26th.
A guest at Bülent Ceylan's: Florian Silbereisen loves jazz
For the next 20 minutes of the podcast, the two of them especially praise each other. Bülent Ceylan is therefore an incredibly honest person. Silbereisen, on the other hand, "made Schlager big", which is why everyone wants to appear in their shows, "regardless of whether you have something to do with Schlager or not," says Ceylan. Silbereisen is also welcome as a guest in other hit shows.
But when the podcasters play a clip from 1995 in which Silbereisen sings "My best friend is the accordion" as a 14-year-old, the musician is forced to reveal more intimate details. In fact, it all started with this instrument, but surprisingly his first passion was jazz.
"My school principal was an absolute jazz fanatic. I only got time off to visit Carolin Reiber or Karl Moik when I went to the jazz club with him to compensate, "says Silbereisen. "How cool is that!" Says Ceylan and laughs. When he went up to the club, he founded a school band, but in the end he realized that he preferred to play the harmonica in the inn. "People were always funnier," recalls Silbereisen.
Florian Silbereisen in the podcast: This is how the Schlager star spends Christmas
One topic could not be missing from Silbereisen's podcast premiere: Christmas. When asked how he always spends the festival, the Schlager star only says: "As traditionally as possible in a small family circle." With the current Covid regulations * this is of course not as easy as usual, but normally everyone would come four siblings to his mother.
On the menu at the Silbereisens: sausages with cabbage. Nobody should have a lot of work and have to stand in the kitchen all day, he emphasizes. The Christmas tree can only be seen when the bell rings. The whole family then sing "Silent Night". "That won't change anything, only today I see the shining eyes of my nieces and nephews," enthuses Florian Silbereisen.
Video: The most moving Schlager moments in 2021 with Florian Silbereisen, among others
Florian Silbereisen: Clear words about Corona
Finally, Silbereisen also talks about Corona – and it becomes astonishingly clear. It is precisely in this time of obstacles and difficulties that one has to bear in mind the "deep meaning of Christmas" and not just make a "festival of presents" out of it. Spending time together is extremely important.
Silbereisen's biggest Christmas wish surprisingly also has to do with Corona. He wished that in Germany no decision would have to be made about compulsory vaccinations, but "that we all show the solidarity that we owe to the generation that has built this country." (Mef) * tz.de is an offer from IPPEN.MEDIA.