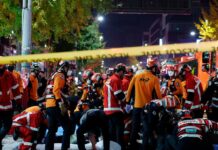 In a nightlife district of the South Korean capital, celebrations culminate in one of the greatest tragedies in the country's recent history. The death toll could possibly rise further.
At least 120 people died and 100 others were injured during Halloween celebrations in Seoul on Sunday night. This was reported by the South Korean news agency Yonhap, citing information from the authorities.
The tragedy happened in the nightlife district of Itaewon after crowds reportedly poured into a narrow side street. Online videos circulating on social media showed dozens of people covered in blue plastic sheets at the side of the road. Overall, according to Yonhap, the emergency services tried to revive more than 50 people. The number of deaths could possibly continue to rise during the night, it said.
Crowded streets make rescue operations difficult
According to eyewitness reports, the streets around the scene of the accident were so crowded that the relief workers had difficulty making their way through the crowds. According to Yonhap, a total of 142 rescue vehicles were deployed.
President Yoon Suk-yeol chaired an emergency meeting on Sunday night. Before that, he ordered more emergency personnel to be sent to the area and hospital beds to be prepared. According to Yonhap, Seoul Mayor Oh Se-hoon, who is currently visiting Europe, has canceled all scheduled meetings and announced his immediate return. The exact causes of the tragedy were initially unclear. dpa