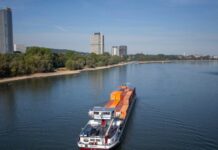 In the last few days there has been a lot of rain in many places in Germany. The Rhine levels have risen slightly.
Duisburg – The rain on Saturday caused the water in the Rhine to rise again. In Emmerich, the level reached a positive value again after the historic low of the past few days: on Sunday morning (5:00 a.m.) it showed three centimeters – an increase of six centimeters compared to the previous day.
The level in Emmerich had been below zero since Tuesday. This means that no more water flowed into the water measuring tube on the river at the calculated zero level because the Rhine is lower.
The low tide is not over yet
The water level also rose by several centimeters at the other measuring points in North Rhine-Westphalia: in Cologne by six to 80 centimetres, in Düsseldorf by four to 38 centimetres, in Duisburg by four to 158 centimetres, in Wesel by five to 93 centimeters and in Rees by seven to 45 centimeters.
Despite the positive trend, the Waterways and Shipping Authority does not expect any sustained improvement in water levels in the foreseeable future. The water levels would initially continue to recover in the next few days. After the passage of a wave coming from the Upper Rhine, it can be assumed that they will sink again. Overall, the water levels were mostly in the range of an average low water level, the authority announced on Friday. dpa