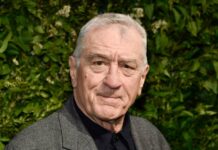 "The Godfather II", "Good Fellas" and now "Wise Guys": In his new film, the Oscar winner becomes a mafia boss again and makes the streets of New York unsafe.
Los Angeles – US actor Robert De Niro (78, "The Irishman") gets involved again in a mafia drama. The Hollywood star will star in the planned crime thriller Wise Guys, directed by Barry Levinson (80, "Rain Man", "Good Morning Vietnam"), according to the US industry publications "Hollywood Reporter" and "Variety".
The screenplay is by Nicholas Pileggi (Good Fellas, Casino). The story revolves around the two mafia bosses Vito Genovese and Frank Costello, who ruled New York in the 1950s and 1960s.
De Niro and Levinson have worked together before, including on films like Wag the Dog and Sleepers. In 2017, the director brought the Oscar winner to the camera for the TV film "The Wizard of Lies" in the role of billionaire fraudster Bernie Madoff.
De Niro rose to fame through numerous mobster roles, including The Godfather II and Good Fellas. In 2020 he starred in the mobster comedy Kings Of Hollywood with veteran stars Morgan Freeman and Tommy Lee Jones. dpa