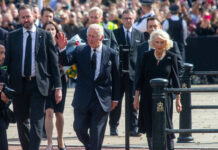 Following the death of the Queen, her son Charles will be proclaimed King today. An overview of when and where you can watch the event live.
London – After the death of Queen Elizabeth II, the formal proclamation of Charles III. as king imminent. It will take place on Saturday morning (September 10) in London. For this purpose, an Accession Council is convened, which could be translated as "Council for the Accession to the Throne".
An overview of when Charles will be officially proclaimed king and where you can follow the event live.
After Queen's Death: When Will Charles Be Proclaimed King?
The "Course to the Throne Council" will meet at 11 am GMT at St James's Palace. The procedure will be broadcast live. An hour later at 12 noon the proclamation will be read from the palace balcony. There are further readings in the City of London and on Sunday in Scotland, Northern Ireland and Wales.
| Proclamation procedure | time |
| --- | --- |
| "Ascension Council" convenes | 11 a.m. CEST |
| Proclamation on the Palace Balcony | 12 p.m. CEST |
Charles III – The proclamation live on TV and live stream
According to media reports, around 200 members of the Privy Council and invited guests can attend the proclamation ceremony at St. James's Palace. In addition to Charles (73), his wife, Queen Camilla (75), and his son William, the new Prince of Wales (40), are expected there. But where can it be viewed live and for free? A selection of TV channels:
ZDF: live stream and TV program
NTV: Special broadcast on TV
The Guardian : Live Stream
Sky News: Live Stream (English)
After the death of the Queen: When will Charles be crowned King?
Charles had already become king at the time of Queen Elizabeth II's death on Thursday. This is regulated so that the country is never without a monarch. Aside from the proclamation, there is a coronation to follow. Elizabeth II's coronation took place in 1953 – 14 months after she became queen after the death of her father. (slo with dpa)