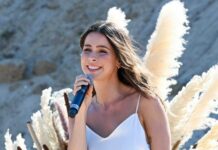 Although already three years old, a song by Lena Meyer-Landrut became a hit in Japan this summer. She apparently owes her late success to three influencers.
Tokyo – After her surprise success in Japan, pop singer Lena Meyer-Landrut (31, "Better") is currently presenting herself to the media and fans in Tokyo. "It's super exciting. I visit the record company here, do a few interviews, do some TV shows and perform," she told the German Press Agency on Thursday. "It's super cool and a unique experience."
The musician from Hanover landed a hit in Japan this summer with her song "Life Was A Beach". The song from her album "Only Love" is already three years old and was never released as a single in Germany. A few months ago, however, three Japanese influencers posted a clip on the TikTok platform in which they performed a certain choreography with their hands for the summer song – then the video went viral.
In the meantime, the music video has been clicked over 800 million times on Instagram and TikTok in Japan and has also landed in various charts. "I don't expect much from it, except for having a super great time right now," said Meyer-Landrut about her trip to Tokyo. dpa