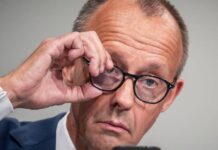 The CDU chairman Friedrich Merz addresses the press representatives at the party conference of the Christian Democrats; he insists on the correct use of the German language – meaning gender.
Hanover – CDU leader Friedrich Merz has again positioned himself indirectly against gender in public broadcasting with clear words. He said on Friday at a party conference in Hanover: "Universities, ladies and gentlemen, and public broadcasting are not public educational institutions." They have a state education and information mandate. He asked the broadcasters to stick to the rules "that we have all given ourselves in this country – including for the use of the German language".
If you carry out an order that is financed with fees, then you can expect to adhere to the "generally recognized rules in the use of the German language," added Merz to erupting applause at the party conference.
The CDU leader followed up on a guest article in the "Badische Latest News", which he published in August in the midst of the crisis at Rundfunk Berlin-Brandenburg (RBB) about allegations of nepotism.
There he had spoken out against gendering with these words: "Neither individual speakers nor commentators and moderators have the right to deviate from the generally accepted rules of use of the German language."
At the beginning of the party, Merz also welcomed press representatives. There is the "proud number" of 58 editors in public broadcasting. "We will deal with them particularly lovingly during this party conference," said Merz. At the moment, the Union frequently occupies the topic of public service broadcasting in order to express criticism of the institutions and their programs with varying degrees of sharpness.
Gender is always a contentious issue. For years there has been a discussion in Germany as to whether – and if so how – the masculine forms in the language can or should be replaced by broader terms – in order, for example, to involve women more aggressively.
The gender asterisk as with teachers is one possibility. Some put a colon or an underscore instead. In the spoken language and on television or radio, this is then expressed as a pause in speaking. dpa