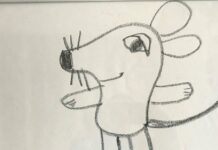 FR author Thomas Stillbauer met Isolde Schmitt-Menzel many years ago – but he only remembers that when he finds a drawing of her
So here's the story of how a FR writer once met the original artist of the original mouse from the original show with the mouse and can't remember. Well, that's a long time ago now, probably almost as long as the mouse can make its original mouse tail when it has to cross a ravine or lasso the little blue elephant.
So very long. But why is there no memory when there is clear evidence: a drawing of the original primal mouse with the signature: Schmitt-Menzel. Must have been made sometime between 1993 and 2000. During a visit to the ingenious original artist Isolde Schmitt-Menzel in her old original home of Bad Homburg.
It can only be that the genius artist is also the original sorceress who hexes away memories and leaves behind signed drawings. By the way, I also have a mouse coffee cup. But everyone has them. Where was that from again? Thomas Stillbauer
Note: The text and drawing have already been printed in the FR, in March 2021 for the 50th birthday of the mouse.