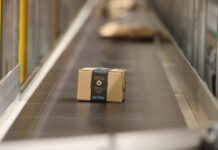 A customer orders a fly screen from Amazon, but instead a firearm is delivered – and it has also been reported as stolen.
Denver – Amazon is one of the world's leading online mail order companies. Millions of products are ordered and shipped every day. With the large number of orders, confusion can occur. You look forward to a package, but in the end the right product was not delivered.
This has now happened to Don Thompson from the US state of Colorado. The 78-year-old is a regular user of the shipping giant. He orders up to four or five packages a day, Thompson told US broadcaster CBS News Colorado . "You don't often make mistakes," he said. With his last order, however, he was amazed when he opened the package.
Amazon
founding
1994
Managing Director
jeff bezos
Revenue (2021)
$470 billion
Amazon customer gets shotgun delivered instead of fly screen
Originally, Thompson had ordered a fly screen. Instead, Amazon made a dangerous mistake. The buyer received a shotgun. "I was completely amazed. It's terrifying, absolutely terrifying to me," said Thompson, a former law enforcement officer.
According to research by CBS News Colorado , the 78-year-old received the package from Amazon in early August. It contained a Stoeger shotgun that had apparently been reported stolen. The delivery unsettled Thompson. He feared that such a mix-up could have put the weapon in the wrong hands.
Amazon customer receives shotgun: company announces internal investigation
The tracking number for the fly net order matched the number on the box with the shotgun, the US broadcaster confirmed. According to the shipping label, the gun was shipped from an Amazon fulfillment center in Aurora, Illinois.
When asked by the US broadcaster, Amazon explained that there were no firearms in the range. The company later sent an apology. "This is certainly not what our customers should expect and I can assure you the firearm was delivered unintentionally. We are conducting an internal investigation into the errors that led to this shipment from our fulfillment center to ensure this does not happen to any other customer," CBS News Colorado quoted customer service as saying.
Amazon delivers a shotgun to a customer instead of a fly screen: the police are investigating
The Jefferson County Sheriff's Office has since confiscated the gun. "It looks like it was stolen, but we've only just begun our investigation," spokeswoman Jenny Fulton told the US broadcaster.
Strange incidents occur again and again at the online mail order company. After the launch of the new Playstation 5, an Amazon messenger stole the console from a child.
Amazon now wants to help clarify the matter. "We have contacted the Jefferson County Sheriff's Office to offer assistance with the investigation. Internal. We are working to do everything we can to prevent something like this from happening again," said Amazon spokesman Branden Baribeau. The company has since credited Thompson $250 and reimbursed the cost of the fly net. (cheese)