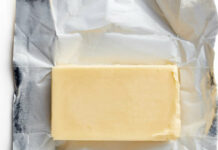 With meat it is clear. But doesn't everyone know that indirectly animals also have to die for milk, butter, cheese and the like? BuzzFeed News explains why.
On Monday, September 12, a number of people took to Twitter using the hashtag #Butter to debate whether or not the food actually killed animals. The starting point for this was a tweet from June in which a Twitter user asked who still had to eat butter these days – after all, there were enough margarine alternatives for which no animals had to die. Some laugh at him if he actually knows how butter is made – they argue that no animals would die for that. But is that true?
BuzzFeed.com knows the truth behind the statement "butter has to die for butter".