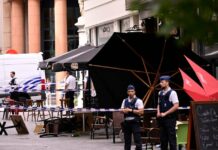 In Brussels, a van drives into the terrace of two restaurants. The incident ends comparatively lightly – but it still raises many questions even after the alleged driver was arrested.
BRUSSELS – In the center of the Belgian capital Brussels, a pickup truck crashed into the terrace of a brasserie and fast-food restaurant on Friday afternoon. According to the rescue workers, six people were slightly injured. The alleged driver initially fled, but was arrested in Antwerp in the afternoon.
According to the public prosecutor, it was initially unclear whether the car was intentionally or unintentionally driven into the tables and chairs of the restaurants. "I know that the facts are reminiscent of attacks that have taken place in the past, but we do not yet know whether this case is definitely an attack," spokeswoman Willemien Baert said at a press conference in the evening. It could also have been an accident.
Brussels Mayor Philippe Close had previously suggested that witness statements could point to a crime. "What is certain is that the vehicle was traveling at extremely high speed and was heading for the terrace," the newspaper "Le Soir" quoted him as saying on its website. Due to the unclear background of the incident, the terror warning level for some urban areas had also been temporarily raised.
Arrested man not previously known as an extremist
According to the prosecutor, the police immediately evaluated camera images and statements from witnesses and victims to identify the alleged driver. According to information from the broadcaster RTBF, the arrested man was not previously known as an extremist. The public prosecutor's office did not want to comment on his identity on Friday for the time being. According to spokeswoman Baert, the result of the interrogation should be awaited.
According to Baert, the injured could all be treated on site, and nobody had to be taken to the hospital.
The vehicle was spotted a few blocks away shortly after the incident. The incident happened around 1 p.m. on Rue Saint-Michel, which is a side street off Brussels' well-known shopping street, Rue Neuve. Mainly restaurants and snack bars have settled in it.
In Belgium, six people were killed and more than three dozen injured in March when a car crashed into a crowd at a carnival event in the municipality of Strépy-Bracquegnies. The driver is currently in custody. According to the current status of the investigation, he is to be tried for manslaughter. dpa