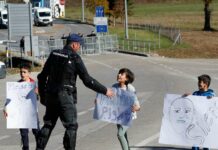 Children have to spend the night outdoors or live in run-down buildings with strange adults. There is a constant threat of being abused.
Brussels – Children fleeing towards the EU via the Balkan route are being beaten and sexually abused by adults. According to a report by the organization Save the Children, there is an "enormous level of violence and a blatant lack of protective measures for underage refugees in Europe".
On their journey, children are repeatedly at the mercy of police officers, people smugglers and other strangers, the aid organization said on Tuesday (September 13) in Berlin. They felt helpless and alone, sometimes with consequences that permanently impaired their development. Violence often ensued.
Balkan route: Children flee to the EU and are exposed to violence
The report is based on detailed interviews with 48 children aged 13 to 19 in the non-EU countries Serbia and Bosnia-Herzegovina. They had been on the run for an average of four years. Save the Children holds the European Union primarily responsible for this.
"Because Europe's focus on deterring those arriving, children are exposed to shocking violence from police and border guards – violence that goes unpunished," said Director Ylva Sperling. The EU and governments must act immediately. "They should provide refugee children with access to safe, regulated and legal migration routes."
Balkan Route: Many cases of self-harm
Unaccompanied children in particular are at risk of becoming victims of violence, it said. Many have to sleep outdoors or "live in run-down buildings with strange adults – under the constant risk of being beaten or sexually abused". The perpetrators are mostly adults in positions of power, such as border police and smugglers. Children are also sometimes housed in prison-like accommodation and not informed about their rights.
In particular, boys traveling alone, who are significantly more likely to travel unaccompanied than girls, are at considerable risk of becoming victims of sexual violence. Many children and young people compensated for what they had experienced with alcohol and drugs. There are also many cases of self-harm and attempted suicide.
Save the Children urges EU to act
The European Union and the governments must act immediately, demanded Sperling. "They should give children on the run access to safe, regulated and legal migration routes so that they are no longer subjected to the ordeal documented in this report." (mse/dpa/epd)