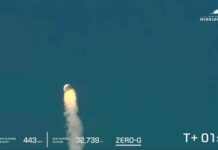 For the first time, a rocket from Blue Origin, Amazon founder Jeff Bezos' space company, has crashed during launch. She had no people on board.
Van Horn – The launch vehicle crashed during an unmanned launch by Amazon founder Jeff Bezos' space company Blue Origin. The company announced on Monday that there were no injuries. The emergency system of the attached space capsule worked as planned. Video recordings showed the capsule detaching itself from the rocket shortly after launch and gliding towards the ground on parachutes.
It was the 23rd mission of the New Shepard program, named after the first American in space, Alan Shepard (1923-1998). Research equipment and scientific experiments were on board, it said. The US aviation authority FAA announced an investigation, as reported by US media.
The missile system "New Shepard" flies largely automated. The capsule, separated from the rocket during the flight, reaches an altitude of around 100 kilometers above the earth, at times with weightlessness, before the reusable object touches down again, slowed down by large parachutes. The rocket, which is also reusable, normally lands vertically back on earth.
Most recently, in August, Blue Origin sent six people from the west of the US state of Texas with the rocket system for a short trip into space. On the first flight in July 2021, Amazon founder Bezos himself was on board. The second, in October 2021, was attended by then 90-year-old Canadian actor William Shatner, who became world famous for his role as Captain Kirk on Star Trek. dpa