In view of the energy crisis and the Ukraine war, Germany could face a blackout. You should have certain supplies in the house for 10 days per person.
Frankfurt – Corona pandemic, inflation, energy crisis, Ukraine conflict – is there a threat of a blackout? Consumers should definitely be prepared for an emergency. In view of the currently tense situation due to the Ukraine war and the energy crisis, the EU Commission does not rule out power cuts.
For this reason, more and more warnings of a blackout are currently being raised. You should therefore have certain foods and everyday objects in stock. The Federal Office for Civil Protection and Disaster Assistance (BKK) has published a list of supplies that you need for about 10 days per person.
Is there a blackout in Germany? This is the basic supply of food for 10 days
According to the BKK, the sufficient availability of food is an essential preparation for an emergency. A basic supply for 10 days per person could look like this:
beverages
20 liters (2 liters per day and person)
Cereals, cereal products such as bread, potatoes, pasta, rice
3.5 kilograms
vegetables, legumes
4 kilograms (possibly use glasses and cans)
fruit, nuts
2.5 kilograms (store fruit in cans and jars, only use fresh fruit that can be stored)
milk, dairy products
2.6 kilograms
fish, meat, eggs
1.5 kilograms
fats, oils
0.357kg
Other at will
Sugar, salt, flour, sweetener, honey, jam, chocolate, ready meals, broth, cocoa powder, pretzel sticks
Source: www.bbk.bund.de
Smaller meals can be heated and prepared on a camping stove. Table grills can be used in the garden or on the balcony. According to the BKK, it is also important to observe the storage instructions for food.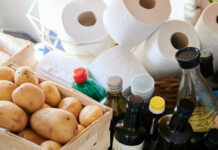 Blackout: You should have this in stock in case the heating and light fail
Don't forget pets either. Sufficient food, bedding, medication and other necessary products should be stocked for them. Furthermore, the medicine chest should be stocked with a basic supply of the necessary medicines and sufficient hygiene items such as soap, garbage bags and toilet paper should be available. According to the BKK, a certain amount of reserve batteries is also advisable.
| | |
| --- | --- |
| Failure of the heating | Supply of coal, briquettes or wood if you own a stove or fireplace; otherwise keep warm clothing and blankets, doors closed |
| failure of the light | Flashlights with enough batteries, candles, matches or lighters, camping or outdoor lamps |
Power failure prevention: With these tips you are prepared for a blackout
The BKK also provides additional tips for power failure precautions:
Batteries on laptops, mobile phones, telephones, etc. should be charged and have spare batteries ready
Solar powered battery chargers or power banks can be of help in the event of a power outage
Cash should be available, as the ATMs will also stop working in the event of a power failure
Have a battery-operated radio or crank radio ready so that notifications from the authorities can be followed in the event of a long-lasting power failure
Having an emergency supply is important, but there's no reason to hoard. (hg)