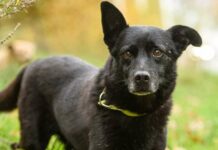 Twelve-year-old, visually impaired mixed-breed male Gary has found a new home in an animal shelter in Poland after many years on the street. Although he was adopted one day, he was drawn back to his caretakers.
Gdynia – It sounds almost unbelievable, but that's exactly what happened in Poland: The twelve-year-old mixed breed male Gary, despite his visual impairment, managed to walk 25 kilometers to be back with his adopted family. As the Polish TV station tvn24 reports, after many years on the street, Gary was first taken in by an animal shelter run by the Paka dla Zwierzaka association in Gdynia. Above the kennel lived the homeowners – a family with three children who often took Gary for walks and grew fond of him. Gary also quickly got used to the new environment.
When Gary was adopted by an older man after about three weeks, he moved about 25 kilometers away from the shelter to Żuków. However, he did not stay there long. The day after the adoption, when the new owner tried to put Gary in the car, he untied his collar and ran away. In the days that followed, dozens of people in Żuków searched for Gary – among other things, by posting notices or by searching the Internet. Only three days after his disappearance, there was the first sign of life from Gary – someone sighted him in another city. "The search was extended to a larger radius," said the president of the association Paka dla Ziwerzaka, Marta Słodnik.
Missing dog Gary: 'He walked in the cold for five days to get home'
A total of five days had passed when Gary was suddenly seen again in Gdynia. 10-year-old Hania, daughter of the owners of the house where the shelter was located, found Gary sleeping in the woods – very close to their home. The keepers of his former shelter could hardly believe it. Gary would have had to cover about 25 kilometers alone. But actually the dog lying in the woods was Gary. After the children saw him, he started walking towards the shelter. "He walked in the cold for five days to get home," said club president Marta Słodnik.
"Gary chose his own family and we respect his choice," Słodnik said. The dog is no longer up for adoption, but will remain with its temporary caretakers forever. Its new owner became 10-year-old Hania, daughter of the homeowners. "The man who adopted him understands the situation and we will look for a new dog for him," said the association's president.
Lost dogs: The four-legged friends often find their way back home
It's not uncommon for lost dogs to come back. This gives the animals extraordinarily good orientation. In France, a missing dog even walked 380 kilometers home. In Baden-Württemberg, too, a nose on four paws proved that dogs have a special nose: After 26 days of searching, a dog sniffed out a missing cat under a manhole cover in Fischingen and rescued it.