The risk of an attack in London is increasing around the funeral of Queen Elizabeth II. Numerous people make the situation confusing.
LONDON – Queen Elizabeth II is to have her funeral on Monday September 19th. Not only millions of visitors, but also some heads of state are therefore expected in London. The Queen's funeral is therefore not only the biggest date in royal protocol, but also an enormous security project for the authorities.
The level of threats has increased significantly compared to previous monarch funerals, Nick Aldworth, former UK Counter-Terrorism National Coordinator, told the Independent newspaper. "This will probably be the largest policing and security operation the UK has ever undertaken." "It takes one car, one person to do something heinous, and people get hurt and killed," Aldworth said in the interview.
Queen's funeral: Secret service sees "considerable" risk of attack in London
According to the British intelligence agency MI5, the risk of an attack in connection with the Queen's funeral is "significant". To classify: This is the third of a total of five threat levels, the highest is referred to as "critical".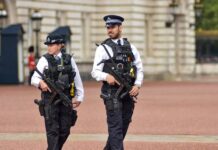 The Metropolitan Police in London began planning the funeral just hours after the Queen's death was announced. "We will keep people safe with high visibility patrols across London," officials said. "The public will see additional officers posted at key locations including transport hubs, royal parks and outside the royal residences in London."
| Queen's Funeral – Security Forces in London | task |
| --- | --- |
| Metropolitan Police | Coordination of the police concept |
| Traffic Police London | Coordination of the police concept |
| City of London Police | Securing financial district |
From a police perspective, the Westminster borough of London is the most important area. The memorial service ahead of the Queen's funeral will take place at Westminster Abbey. Buckingham Palace is also located in this area.
Meanwhile, it is unclear whether Premier League games will be played at the weekend. If that happens, additional football fans could join the crowd in London for the Queen's memorial service and funeral. There is no final decision on this yet. (do with dpa/AFP)