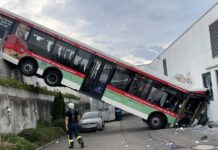 A bus slides down a slope after an accident with an RV and crashes into a supermarket. Read the details of the accident in Baden-Württemberg here:
Several injuries and total damage of around 115,000 euros – the result of a serious accident at the Herrenberg bus station (Baden-Württemberg). A bus had just left the station on Friday when the accident happened: it collided with a mobile home, throwing the bus down a slope. Then the heavy vehicle crashes through a fence and slides down the embankment, heading straight for a supermarket.
HEIDELBERG24 reports on the details of the bus accident in Herrenberg, in which three people were injured.
The front of the bus is completely smashed by the accident. According to the police, a VW Golf parked in the supermarket parking lot was damaged by concrete parts. The vehicles are to be recovered with cranes and should last until late Friday evening.