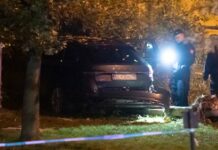 A car crashes into a central bus station in Bratislava. Politicians are shocked and suspect that alcohol may have been involved. The police are still investigating.
Bratislava – A car drove into a bus stop in the center of the Slovakian capital Bratislava – at least four people died.
Two of the six people treated in the hospital were in critical condition and put into artificial deep sleep, said a rescue spokeswoman for the TASR news agency. At the same time, she corrected information from local politicians who had already spoken of five deaths during the night. The number of injured was initially given as seven.
According to the police, there were numerous people at the bus stop on the edge of the historic old town waiting for buses to go to Petrzalka, the most populous district south of the Danube. Why the car drove into the waiting crowd was still unclear in the morning. There were no indications of a terrorist intention.
President Zuzana Caputova combined her condolences with a call to avoid alcohol while driving, so as not to cause unhappiness and grief. Other politicians also addressed the fact that the driver was under the influence of alcohol in their statements of condolence. This was also suspected in media reports. The police did not confirm this for the time being and instead called on witnesses to the accident to get in touch. dpa