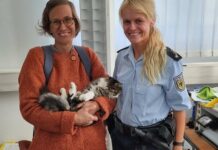 Was it too small for cat "Rosie" in Regensburg? She goes on tour alone and boards the express to Munich Airport. But according to the police, she probably didn't want to fly after all.
Regensburg – A cat from Regensburg took the train to Munich and back alone. A train attendant found the solo traveler on his train and reported it to the police on the way back, the police said on Wednesday.
Cat "Rosie" sneaked unnoticed into the early hours of Tuesday morning to the Regensburg train station and into the airport express in the direction of Munich. The animal did not want to get off at Munich Airport – and instead drove back home.
According to the police, "Rosie" was returned to her owner in Regensburg. The woman explained that the cat was often out and about alone. But she would not have made it to the train station – or even to Munich – before. dpa