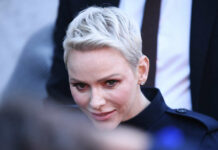 Charlene from Monaco comes to Fashion Week. Are the days of suffering after exhausting years over now? The princess seems relaxed.
Paris – Princess Charlene of Monaco has had a tough few years: the gazettes were full of articles about an alleged upcoming separation from husband Albert of Monaco. In addition, the prince's wife was suffering from an illness and was being treated, which is why she could hardly see her children.
In addition, she had almost completely withdrawn from the public eye due to a serious infection and "physical and emotional weakness". Her husband Albert also had to go to appointments, banquets or balls alone – Charlène was simply not able to accompany him.
Princess Charlene of Monaco: "I went through a difficult time"
"I went through a very difficult time, but I was fortunate to have the support and love of my husband, my children and my family, from which I draw all my strength," the princess said in a recent interview. It was a long and painful path that she had to face in the past.
Recently, however, the Princess has been making more public appearances. According to the news portal t-online , Charlène attended the Paris Fashion Week on Saturday (October 1) and attended the fashion show of the label Akris. The 44-year-old is considered a big fan of the brand and is close friends with chief designer Albert Kriemler.
Charlène has a smile on her face again
"Thank you for a wonderful evening and congratulations for 100 years of perfection, Albert," Monaco's Princess wrote on Instagram. And she actually has a smile on her lips again when taking photos. She will have the same when she hugs her beloved children again.
The upbringing of their twins Jacques and Gabriella is the focus. It is extremely important "that they develop an awareness from an early age that our environment is fragile," says Charlène. "They were very busy with their activities such as sailing, their courses on the marine environment and their initiations in diving and sea rescue," said the Princess. (mse)