He was kidnapped five years ago, and now a court in China has sentenced him to a long prison sentence and a fine: The criminal case of Xiao Jianhua sounds like something out of a movie.
Munich/Shanghai – On Chinese New Year's Day five and a half years ago, scenes that are otherwise only known from a Hollywood film took place in a hotel in Hong Kong: on that February day in 2017, several men broke into a room in the Four Seasons Hotel and kidnapped the resident. First they took him out of the city, then apparently across the border and into the Chinese city of Shenzhen. The victim: Xiao Jianhua, a Canadian billionaire of Chinese descent.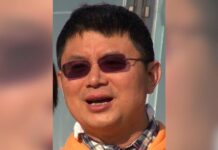 On Friday (August 19), the now 50-year-old was sentenced to 13 years in prison by a court in China for bribery, embezzlement and other financial crimes. The financier's investment group Tomorrow Holding, who had extensive ties to the Communist Party elite, must also pay a fine of 55 billion yuan, the Shanghai First People's Court ruled on Friday.
China: Court sentences billionaire to bribery and violation of regulations
The court also imposed a personal fine of 6.5 million yuan on Xiao. He pleaded guilty and was cooperative. That's why the verdict was "gracious". From 2001 to 2021, Tomorrow Holding and Xiao Jianhua bribed a number of state officials with shares, apartments, cash and other property totaling 680 million yuan ($98 million). The court said the purpose was to evade financial supervision and to obtain other "unreasonable advantages". The bribed civil servants would have had to answer for themselves in other proceedings.
The court found that the investment group and its boss "violated financial law and supervisory regulations" with their machinations. They also "seriously undermined the financial order and endangered the financial security of the country". Parts of Tomorrow Holding had already passed into state hands.
China: Kidnapped billionaire was initially thought to have disappeared
After the kidnapping in 2017, Xiao initially went missing. His company then published newspaper ads saying Xiao was abroad for "medical treatment." A little later, Chinese authorities said the billionaire had been "convinced" to leave Hong Kong to work with investigators in China. Finally, two years ago, China's state media reported that Xiao was being charged with bribery and stock market manipulation.
At a Shanghai court hearing in July, the Canadian Embassy unsuccessfully requested access. Foreign Ministry spokesman Wang Wenbin told the press in Beijing that Xiao Jianhua had dual citizenship, which China does not recognize. Xiao also held a diplomatic passport for the Caribbean country of Antigua and Barbuda, according to a report by the South China Morning Post . (sh/dpa)