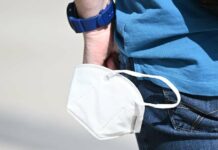 The number of corona infections has recently been declining for a while. According to the RKI weekly report, it now seems to be stagnating.
Berlin – In view of the time of year, the Robert Koch Institute (RKI) expects more respiratory diseases in the near future.
"In the coming weeks after the end of the holiday season, a seasonal increase in respiratory diseases overall is to be expected," says the institute's Covid 19 weekly report on Thursday evening. Accordingly, older people in particular could be severely affected. The RKI called for mutual consideration: If symptoms such as a runny nose, sore throat or cough appear, you should not go to work, sick children should not go to school or kindergarten. In the event of illness, it is more important to avoid contacts and to contact the family doctor if necessary.
RKI: Continue to comply with recommendations for avoiding infection
Also with a view specifically to Corona, the RKI advises: "Against the background of high incidences due to the widespread spread of the omicron subline BA.5, the recommendations for infection prevention should continue to be observed." The quite long-lasting decline in these infections in Germany has stopped. The nationwide seven-day incidence, for example, remained relatively stable compared to the week before last, "after it had previously decreased for seven weeks". According to the data, the downward trend did not continue even in the case of severe Covid 19 diseases. There was talk of a plateau in the number of intensive care patients affected.
Omicron subline BA.5 continues to dominate
There is little movement in the evaluations of variants of Sars-CoV-2: In a sample, the omicron subline BA.5 is still responsible for the largest proportion of cases (95 percent). BA.4 comes to around three percent. An mRNA vaccine from Biontech/Pfizer, which is adapted to these two pathogens, was approved by the European Commission at the beginning of the week. BA.4 and BA.5 have identical spike proteins.
Federal Minister of Health Karl Lauterbach (SPD) expects vaccinations with the approved new preparation to start quickly. Vaccines adapted to the omicron subline BA.1 have recently become available – a pathogen that is no longer relevant. However, based on previous data, it is not possible to directly compare which of the new vaccines is better. The effectiveness also depends on which variants will prevail in the coming weeks and months – which is currently completely open. According to researchers, it is important that risk groups can be given a second booster vaccination at all. The recommendation of the Standing Vaccination Commission (Stiko) on the new vaccines is also expected. dpa