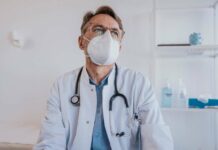 Corona is not an issue for many right now. But before autumn and winter there will be new corona rules from October 1st, which will also affect medical practices. They were particularly important to Lauterbach.
Berlin – It was a long back and forth with the new Infection Protection Act. With all the discussions, demands and criticism in advance, it is difficult to keep track of things. Some things are changing in medical practices, nationwide, while others are decided by the federal states. The central points in the new Corona requirements are the obligation to wear a mask and the test . From October 1, 2022, new Corona rules will come into force. Before that, however, the Federal Council still has to agree on September 16th. The new corona rules for autumn and winter will then come into force on October 1, 2022 and should apply until April 7, 2023.
Corona rules from October 1st: These changes are pending in medical practices
According to Federal Health Minister Karl Lauterbach (SPD), a uniform nationwide corona rule in medical practices is particularly important for the FFP2 mask requirement. Lauterbach announced this in advance. "That's very important to me because of course I know the situation very well in the practices," said Lauterbach. "And I know that it is simply unacceptable for someone in the waiting room of a doctor's office to become infected who may also be particularly at risk." The Bundestag resolution now provides for the following from October 1, 2022:
FFP2 masks are mandatory in clinics, nursing homes and medical practices nationwide.
In addition to the masks, a negative test must be presented before entering nursing homes and clinics.
A nationwide FFP2 mask requirement also applies on long-distance trains, i.e. on the train (from the age of 14). A surgical mask is sufficient for children between the ages of 6 and 13. On the other hand, the FFP2 mask requirement is completely eliminated on the plane. Nationwide, however, it is still valid until September 23rd.
In order to strengthen the protection of those in need of care who are particularly at risk, homes must also appoint officers who take care of vaccinations, hygiene and therapies for those who are ill, for example with the antiviral corona drug Paxlovid.
FFP2 mask requirement in medical practices – This is planned for autumn 2022
The new Corona rules are a tightening in the medical practices. It is about protecting vulnerable groups, so the tenor. Because: The general obligation to wear a mask has largely disappeared since April 2022. Since July 2nd, a surgical mask has been allowed to be worn on buses and trains in Bavaria instead of an FFP2 mask. A medical mask has also been sufficient in hospitals, medical practices and care facilities since May 28th.
Corona rules in autumn: countries should make masks compulsory in local public transport from October 1st
From October 1st, the federal states should or can impose further corona requirements. This includes the obligation to wear masks on buses and trains or in generally publicly accessible indoor areas such as shops and restaurants.
Exceptions to the mask requirement : Anyone who can present a current negative test does not have to wear a mask in gastronomy, culture and at sporting events.
Tests should be mandatory in schools and daycare centers . From class five, masks are also compulsory in schools, provided this is "necessary to maintain regulated face-to-face teaching".
In the case of the exceptions to the mask requirement, however, the countries can decide for themselves whether they want to apply these exceptions or not.
Critical corona situation in autumn: This is what the second state level provides for
In the case of a regionally more critical corona situation, the federal states can impose further requirements with a state parliament resolution. This also includes the obligation to wear masks at outdoor events if distances of 1.50 meters are not possible there. Hygiene concepts for companies and other facilities can be prescribed. In addition, visitor limits for indoor events should be possible. (ml with material from afp)