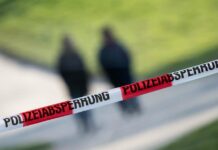 A seriously injured man was found in a well-known park in Dortmund. Now the police are looking for the perpetrator. Read more here:
Dortmund – The Nordmarkt in Dortmund is known for its drug scene. A stabbed man was recently found in a courtyard nearby. On Tuesday (October 4th) a man with a serious stab wound was found on the Nordmarkt.
The Dortmund police secured traces at the crime scene in the morning, parts of the small park were cordoned off, reports RUHR24. The perpetrator is apparently on the run.