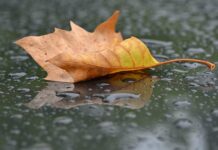 For meteorologists, autumn began on September 1st. Now he's really getting closer.
Offenbach – In Great Britain, tears may flow around the deceased Queen – in Germany, Deep Queenie from Great Britain will cause rain from Tuesday. Incidentally, the name for the low-pressure area was decided some time ago, according to the German Weather Service.
From the night of Tuesday, the low shows itself with a rain area from the North Sea to the middle of Germany, which then shifts further to the eastern half of Germany.
The clash of cool and warm air masses could lead to heavy thunderstorms and "sometimes very heavy rainfall" on Wednesday, it said. These are expected in a wide strip from west to east, starting from southern North Rhine-Westphalia across larger parts of Hesse and Thuringia to Saxony. In places, the amounts of precipitation can be stormy.
From Thursday onwards, autumn, which meteorologists began on September 1st, is likely to spread. The temperatures drop significantly and hardly reach 20 degrees during the day. In the following days it could be even fresher, it said. dpa