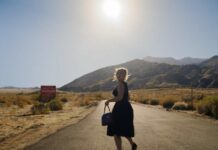 Olivia Wilde's 1950s dystopia Don't Worry Darling falls into the shadows of a curious media campaign
As long as film premieres at least keep tabloids and social media in suspense, Hollywood's battle is not lost. For the week before last, scores of fans could be seen camping out in Venice awaiting a glimpse of screen-star-turned singer Harry Styles. The otherwise overzealous supervisors let her do it, because even if she was more driven by admiration for a pop star than real enthusiasm for film, these were of course exactly the pictures that a festival can need.
The premiere of Olivia Wilde's out-of-competition thriller "Don't Worry Darling" only became "viral" because of an alleged spitting attack by the star on his co-star Chris Pine. However, no one had seen them except for a mobile phone, and even this was not really able to translate what was spotted into legible image information.
Such trifles would have little place in a film review if staged excitement had not always been a commodity in the business that Bert Brecht called the market where lies are sold. However, as a dealer you can easily burn your fingers, which is a delicate matter, especially in cinema crises. The ruinous monumental film "Cleopatra" is generally regarded as the twilight of the gods of the classic Hollywood era: its audience only expected to see the film during the shooting of which Liz Taylor is said to have cheated on her husband Eddie Fisher with Richard Burton.
In the case of "Don't Worry Darling", the producers kept the rumor mill simmering with all sorts of piquancy before the first stone was fired. The American film press, perhaps in defiance of all these banalities, has showered the film with a rare barrage of bad reviews since its premiere. Everything isn't that bad though. Or, to put it another way: There is little that you haven't seen yet.
First of all, this story about a gated community in the California desert is a very attractive set film. In its stylized artificiality, the tidy homestead idyll in the style of the fifties is reminiscent of a classic of cinematic television criticism, "The Truman Show" – as director Wilde had already announced during numerous preliminary interviews. Of course there's a worm hidden somewhere, but it's amazing that Florence Pugh's housewife Alice Chamber needs two acts to even look for it. There are only housewives at all in this dormitory town of dollhouses, while the men drive early in the morning to an undisclosed job. Their cars form a symmetrical ballet, similar to the circles their wives regularly draw in a stuffy ballet class.
Der Film
Don't Worry Darling . Regie: Olivia Wilde. Mit Florence Pugh, Harry Styles, Chris Pine. 123 Min.
Everything about this film looks so gorgeous that among the many female actors Katie Bryon for the set design and Arianne Phillips for the costumes should give hope for Oscars – if the entire work proves worthy of their achievements. That's a question the infallible Florence Pugh will ask herself as the film sends her character through her character's fears again in Midsommar. A first cautious reconnaissance trip in the forbidden direction to the company headquarters should actually be enough to immediately turn your back on the desert city at full speed. But even here the screenplay and director begin to strangely tread water.
Similar to what is bad habit in many streaming series, even the most urgent thought processes that lead to life-sustaining decisions are as if in slow motion. Her hesitation can't really be due to her relationship with her Pasha-like husband, played by Harry Styles. Likewise, the party appearances of the company boss played by Chris Pine should hardly invite you to linger. Should this story actually take place in the fifties and not just in a parallel world caught in their preferences, one would have found such a character to be creepy even then. Today you might think of an Elon Musk, back then someone like that would have nursed tarantulas with uranium in a B-movie. But there was no lack of warnings at first either. A fellow sufferer played by KiKi Layne falls on deaf ears as the only black woman with dialogue.
The screenplay, which Katie Silberman developed from an earlier draft by Carey and Shane Van Dyke, fails to develop the odd community of housewives into something interesting. The collective conformism of these characters also thwarts the feminist aspects inherent in the main character. So much concentrated consumer bliss makes it difficult to even wish these narcissistic creatures an awakening from their unrecognized nightmare.
But that's the way it is with cinema nightmares: we want to enjoy them, after all, and we necessarily regard the poor screen characters who labor for us as cannon fodder. Here, too, Florence Pugh can move on the familiar terrain of "Midsommar", although of course we won't reveal whether her film character's chances of survival are a little better this time. Difficult enough for those involved to survive the media hype that wasn't quite rushed (or even sent ahead?).
Don't Worry Darling . Regie: Olivia Wilde. Mit Florence Pugh, Harry Styles, Chris Pine. 123 Min.