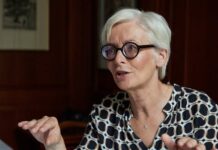 The 58-year-old knows life in the northern German provinces from her own experience. It has changed in recent years, she says.
Hamburg – The bestselling author Dörte Hansen (58, "Altes Land") is not concerned about the future of rural regions.
"I notice that the village is just being rearranged – after the farming age is over, apart from a few large farms. Those who now move to the village usually do so voluntarily – and the communities of convenience become communities of choice. Lots of young families are moving to the country, lots of new things are happening. I think we've bottomed out," Hansen told dpa on Monday evening in Husum at the German premiere of the feature film "Mittagsstunden" based on her novel of the same name. The film hits theaters on September 22nd.
Wind turbines are one of them
She also likes the landscape better than she did a few years ago. "Nature has changed back again. When you were in the villages in the 1970s, it was relatively bare. All the curtseys were gone and the trees were trimmed. I have the feeling that it has become a lot greener again," explained the writer, who lives near Husum. "Rivers and floodplains are also being renatured. So you're going back a bit to the way you were before – because you now know that you've been too harsh on nature. Although the roads have of course remained wide and straight." They don't suffer from the wind turbines either – these are already part of the North Frisian landscape. "I would find the alternatives worse," said Hansen.
Her melancholic novel "Mittagsstunden" describes the structural change in northern Friesland since the 1960s. In the film adaptation by Grimme award winner Lars Jessen ("Forever Summer 90"), Charly Hübner ("Police call 110"), Hildegard Schmahl and Peter Franke play the main roles. dpa