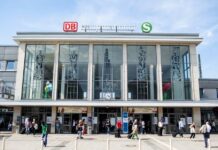 It is expected that the main train station in Dortmund will not be accessible until Saturday evening. Football fans are also affected.
Dortmund – Dortmund Central Station has been closed to train traffic since early Saturday morning. The signal box there failed because there was water ingress after a storm, said a spokesman for Deutsche Bahn.
Since around 3:30 a.m., no trains have been able to enter the station. The disruption is expected to last until late in the evening. There are significant delays and disruptions.
Long-distance traffic will be diverted. Regional trains are also being diverted or turned back just before the main station, it said. According to the DB, it is working on setting up replacement traffic.
Passengers should inform themselves before starting their journey on the Internet or via the DB app. The disruption will also affect numerous football fans: In the afternoon Borussia Dortmund will receive SV Werder Bremen. dpa