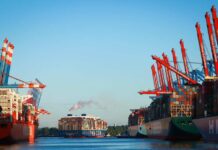 They wanted to smuggle heroin across Europe. But the gang was caught during a nationwide raid:
Dresden – In connection with investigations by the Federal Criminal Police Office, a shipping container with 700 kilograms of heroin was found in the port of Hamburg at the end of August. This is "the largest amount of this drug ever seized in Germany," said the Federal Criminal Police Office.
During searches of ten apartments and commercial premises in and around Dresden, in the Chemnitz area, in Hamburg and in the Netherlands, documents, laptops, data carriers, smartphones as well as vehicles and assets have been secured since Friday night.
Four suspects were arrested in Dresden, Spain and the Netherlands and another man was provisionally arrested in Dresden. The investigation, which the public prosecutor's office in Dresden is conducting with the Federal Criminal Police Office, is about the suspicion of the gang importing large quantities of narcotics. The men are said to have smuggled large amounts of heroin from Iran to Germany in order to distribute it further throughout Europe – a significant hub is said to be in the greater Dresden area. dpa