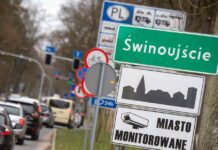 A 78-year-old wanted to bring an alleged hand grenade as a "funny souvenir" from Swinemünde. The find in hand luggage caused a special operation at the airport on the island of Usedom.
Heringsdorf/Swinemünde – A souvenir from Poland in the form of a hand grenade prompted a special operation by explosives experts at the airport on the island of Usedom (West Pomerania-Greifswald). As a police spokesman said on Monday, there were also delays for passengers on other planes at Heringsdorf Airport on Saturday.
The security guards discovered the alleged hand grenade in the hand luggage of a 78-year-old holidaymaker from Luxembourg. The woman explained that she had bought the "funny souvenir" in neighboring Swinoujscie (Świnoujście) and that it was a lighter.
To be on the safe side, the experts from the ammunition recovery service were requested from the explosive site in Mellenthin on Usedom, a few kilometers away. The experts examined the item to rule out any residual risk, it said. They gave the all-clear after about 90 minutes. The island of Usedom consists of a German and a Polish part, which includes Świnoujście as the largest city and where many tourists fly to. dpa