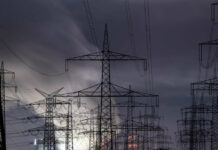 The new relief package also includes an electricity price brake for private households and small businesses. But those who are supposed to implement them are overwhelmed.
Berlin/Frankfurt – In order to relieve private consumers and small and medium-sized companies against the background of rising gas prices, the federal government has decided on an electricity price brake. For households and companies, this should mean that at least part of the electricity consumed is sold at a lower price per kilowatt hour.
This is to be financed by the additional income that comes about through the limitation of the so-called "random profits". This is the profit that energy companies are currently making due to high gas prices. To this end, the EU and the federal government are planning to introduce an upper limit in order to cap the crisis profits of individual sectors and companies and to relieve consumers.
Municipal utilities see problems in the implementation of the electricity price brake: the plans need to be specified
However, as the Frankfurter Allgemeine Zeitung reported on Tuesday (September 6), the first problems are already appearing in the implementation of the plan. Because the municipal utilities and municipal energy suppliers who are supposed to implement the electricity price brake already feel overwhelmed by the order and are demanding that the federal government "speedily specify" the measures that are to be implemented.
To do this, the energy sector not only needs sufficient time and involvement in the planned processes, as Kerstin Andreae, head of the energy association BDEW, demands, but also appropriate computer programs and an extensive database in the best-case scenario, emphasizes the general manager of the Association of Municipal Enterprises (VKU), Ingbert Liebing, to the FAZ . Both point out that the electricity market is a mass market in which changes "cannot be made quickly and without great effort".
Electricity price brake as a help only for low earners: Stadtwerke sound the alarm
The federal government has so far responded evasively to queries and pointed out that details of the plan still have to be clarified. For example, the question is currently still open as to whether the energy price brake will only benefit low earners. As Liebing told the FAZ , this would be an insurmountable problem for municipal utilities and municipal utilities, because the companies would not have access to their customers' income data.
In general, according to a report by the German Press Agency, the energy industry initially commented positively on the federal government's plans. In a statement by the Federal Association of Energy and Water Industries (BDEW), it was also said that it was important "that the measures take effect quickly and that the energy supply companies can implement them". However, it must remain clear that "saving energy in households and in companies is still the order of the day so that we can get through the winter well in the end." (ska with dpa)