Is Meghan Markle tired of Prince Harry? The Sussexes' search for an apartment is going wild: Royal experts suggest that Meghan could want to exchange Harry for Elon Musk.
Montecito – What started as a questionable joke about the Duchess of Sussex Meghan Markle (41) has taken on a life of its own. Palace Papers author Tina Brown, 68, apparently made a non-subtle, snarky comment about the former actress at the 2022 Henley Literary Festival due to the couple's recent home hunting in the upscale Hope Ranch neighborhood.
Author Tina Brown makes dubious hints about Meghan Markle and Elon Musk
"If Meghan Markle ever gets tired of Prince Harry, she could always switch places with Elon Musk," the biographer dropped. Brown told the Telegraph that the Sussexes' $14 million Montecito mansion was a "modest cottage" compared to the stately homes at Hope Ranch. "Yeah, and eventually it might be more than just a new house she's looking for," Brown teases, adding, "Elon Musk is still single, that's all I can say."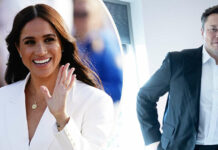 Is it pure malice or is there something to it? In fact, the Tesla CEO, who may be set to buy Twitter, is apparently currently single after splitting from Canadian singer Grimes. On July 6, 2022, Business Insider reported that Musk gave birth to twins to Neuralink executive Shivon Zilis, 36, in November 2021 (a few weeks before Grimes, 34, gave birth to a child by a surrogate). Musk is the father of ten children, one of whom died shortly after birth.
Here's what Tina Brown says about Meghan and Harry's Monetcito mansion
"In Montecito, where they live, their $14 million mansion is a modest cottage compared to what these other people have," Brown told The Telegraph , referring to the couple's current home, which is above nine bedrooms, 16 bathrooms, rose gardens, centuries-old olive trees, a children's cottage, a tennis court and a swimming pool.
Another expert puts Brown's dubious allegation on a more serious footing
So far so confused. But what does that have to do with Meghan? Another Royal writer echoed Brown's quip, but meant it: "There are a lot of people in London who say [Markle] is tired of [Harry]," said Tom Bower, 76, author of "Revenge." , in a recent interview with Page Six . There he shares his future prospects for the duke couple: "They [the royals] speculate that in two years' time she will say 'enough' and some sort of deal with [King] Charles III. (73) could negotiate to end the marriage".
Bower also has an explanation as to why Meghan isn't breaking up now. "I think right now they're committed to [their marriage]. They are bound by the joint business plan to ruin the royals as much as possible and promote the Sussex brand." But the thing is finite. In his book, Bower also assumes that Meghan entered into the relationship with Harry on a calculated basis. The business is not particularly profitable. "She's going to need a new career," he says. Sources used: pagesix.com, businessinsider.com