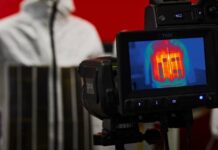 The British fashion start-up Vollebak is working with experts to develop a jacket that is supposed to make its wearer invisible. This is done using a special technology.
London – Technology is now making many things possible and bringing the wildest technologies to light. For example, one company presented the prototype of a flying motorcycle. Being invisible for once – everyone has certainly dreamed of that at least once. The British fashion start-up Vollebak now really wants to make invisibility possible and is working on a jacket that should make its wearer disappear.
Vollebak's co-founders, twins Steve and Nick Tidball, have focused their fashion company on the clothing of the future. They have already presented some jackets that are not intended for normal everyday use, such as an anti-virus "Full Metal Jacket" or clothing for Mars with an "anti-gravity pocket". Now the twins, together with experts, are daring to create a coat that, similar to the "Harry Potter" films, is supposed to make people invisible.
Graphene enables camouflage jacket from fashion start-up
The British start-up Invisibility Shield has already developed an invisible camouflage shield using an optical trick. However, Vollebak wants to make this possible with graphene, the thinnest material in the world. It is stable and at the same time flexible, light and almost transparent and also conducts electricity better than copper, as t3n.de writes. Vollebak is now working on the development of the camouflage jacket together with graphene experts from the University of Manchester.
At first, working with textiles was underestimated, as Cokun Kocabas, one of the developers, explains. Therefore it took three years until the first prototype was ready. Currently, the camouflage device of the jacket consists of 42 multi-layer graphene panels attached to the outside, each of which is around five square centimeters in size. Ions are stored in a liquid in the panels and charged by introducing a voltage. "Specifically, we control the electron in graphene," says Kocabas.
The result: the absorbing graphene converts into a reflective material when it comes to infrared thermal radiation. It can be compared to controllable pixels on a display that can be switched on and off – ultimately making the wearer of the jacket invisible. For the time being, however, only on a thermal imaging camera.
Scientists question Graphene camouflage technology
Scientists still doubt that a camouflage cloak will be created in connection with graphene technology. Criticism comes, among others, from the physics professor Andrea Alù from the City University in New York. She had already stated in 2016 that a camouflage coat was impossible to develop. However, she does not want to evaluate Vollebak's idea until a reviewed paper is available.
Graphene researcher Mario Pelaez-Fernandez from the University of Lille considers the idea to be ingenious and admits the feasibility of using the technology, but still sees major differences between infrared and visible radiation. From his point of view, it is more possible to develop a technology that is based on the color changeability of a chameleon. Also, people wearing this type of camouflage jacket would still cast a shadow. The Vollebak founders also know that they are still a long way from the breakthrough with their invisible jacket. Decades could possibly pass.