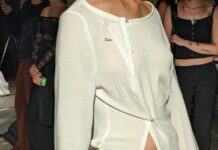 Sustainability everywhere: From entry wristbands to catwalk goods, almost everything is made from refined old material. Fashion enthusiast Judith Kohl unpacks a suitcase full of impressions from Berlin Fashion Week
The Berlin Fashion Week has once again reinvented itself – in line with fashion conventions. First spatially: After three years in the power plant, the fashion week took place this September in the former main telegraph office in Mitte. Here, in the heart of the capital, near Museum Island and Oranienburger Strasse, you will find the typical mix of history, culture and trendy districts that Berlin is known for. Not a bad starting point for the equally stylistically mixed shows, which spread out from there all over the city.
In addition, the temporary event rhythm ended with this fashion week. Since the big trade fairs in Frankfurt are moving back to the capital (Premium Group) or to Düsseldorf (Neonyt) after only a year and a half, the fashion week will adapt to the usual trade fair times again: January and July instead of March and September.
Fashion Week Berlin in the name of sustainability
On the catwalks, on the other hand, the raw materials themselves were rethought. There, many fashion designers showed that they not only deal responsibly with new materials – this standard has existed for a long time – but also do not use new materials for their creations at all and instead work with existing ones.
Natascha von Hirschhausen, for example, relies on zero waste: with innovative cuts, she minimizes offcuts and waste during production. Her expertise has already been requested from the USA: In October she will be speaking with the Fashion Institute of Technology FIT about the highly efficient use of materials as part of the Future Forum.
The Japanese-German label Susumo Ai proceeds differently. There, the timeless pieces are only made to order from carefully selected Japanese fabrics and produced in Germany, so that there is no overproduction in the first place.
Even if the relevance of the Berlin Fashion Week is repeatedly questioned: it is and will remain a platform for well-known old masters and new talents. So it remains exciting…
SF1OG
"Side wings 1st floor" is one of the most promising new labels in the capital. Up-and-coming designer and this year's winner of the Studio2Retail prize, Rosa Marga Dahl, presented her current collection in a former telecommunications bunker, which today houses the art collection Feuerle Collection. A special location – renovated, but at the same time raw – to match their collection created from scrap materials. In her designs, Dahl mainly works with existing second-hand goods and only uses other recyclable materials if there is no other way to realize a piece of clothing.
The models moved quietly and unobtrusively through the exhibition space and the audience almost in slow motion – accompanied only by a cello. Plenty of time to enjoy the extraordinary fashion. Rosa Marga Dahl follows her own rules and sets strong accents with cuts and draping that have never been seen before. Despite calculated deviations from the ideal of perfection, you could see the sophisticated technology and sophistication in the implementation of every look. Mainly kept in neutral white and black, neither color nor pattern distracted from the artistically combined two-piece suits. The collection was a masterpiece in terms of layering: short trousers over long ones, the shirt shimmered underneath through a cut-out top, shirts seemed to flow straight out of the waistband.
With an intuitive sense of style, the designer presented a collection that was delicate and strong at the same time – a dreamlike show, in the truest sense of the word.
William Fan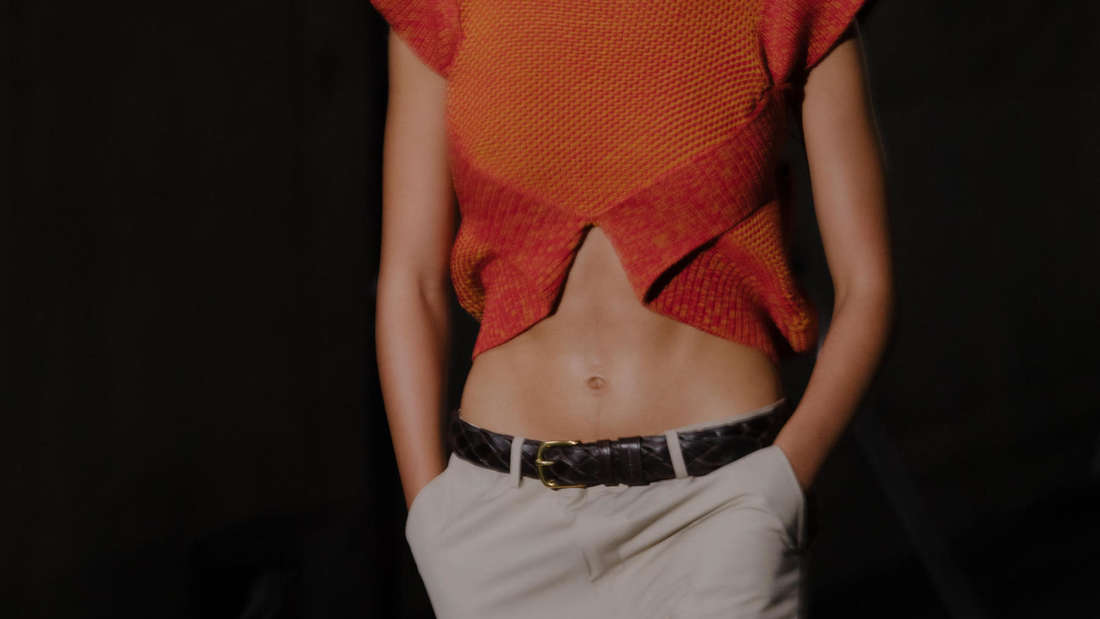 William Fan also surprised with a great location, a disused tunnel at Potsdamer Platz. Against this background, he presented his "Eternity" collection: cape-like tops, low-cut trousers, crop tops and cut-outs all showed a lot of skin. Bold colors such as cobalt blue, bright green, orange and pink in combination with deep black underscored the sexy silhouettes. Shimmering materials and sequins were reminiscent of late nights in clubs – undoubtedly the inspiration for this collection. As the usual good host, Fan didn't leave it at the show, but also used this impulse for a brilliant after-show party – Greetings from Studio 54.
Kristina Bobkova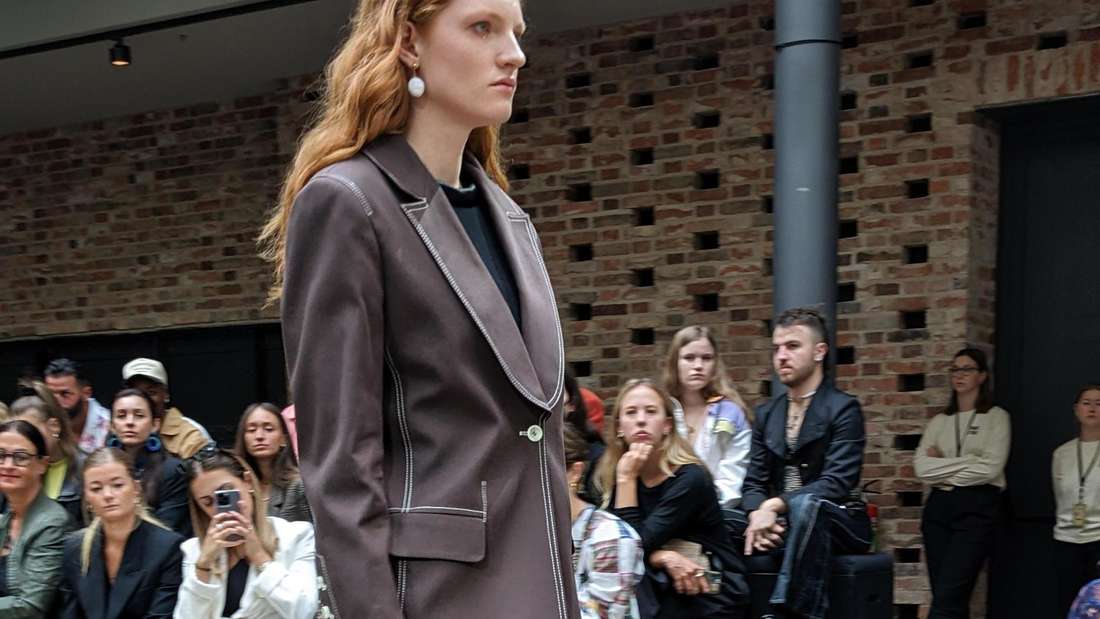 According to the Ukrainian designer, her current collection is about "freedom and choices, about strength and unity and the desire to live, to realize oneself". Created far from her homeland, she showed the culture and uniqueness of traditional Ukrainian craftsmanship and combined it with modern trends.
Flowing, wide silhouettes and a clear design language were broken up with eye-catching details such as contrasting seams, embroidery or unusual cut-outs and gave a casual, timeless collection that certain something.
Laura whip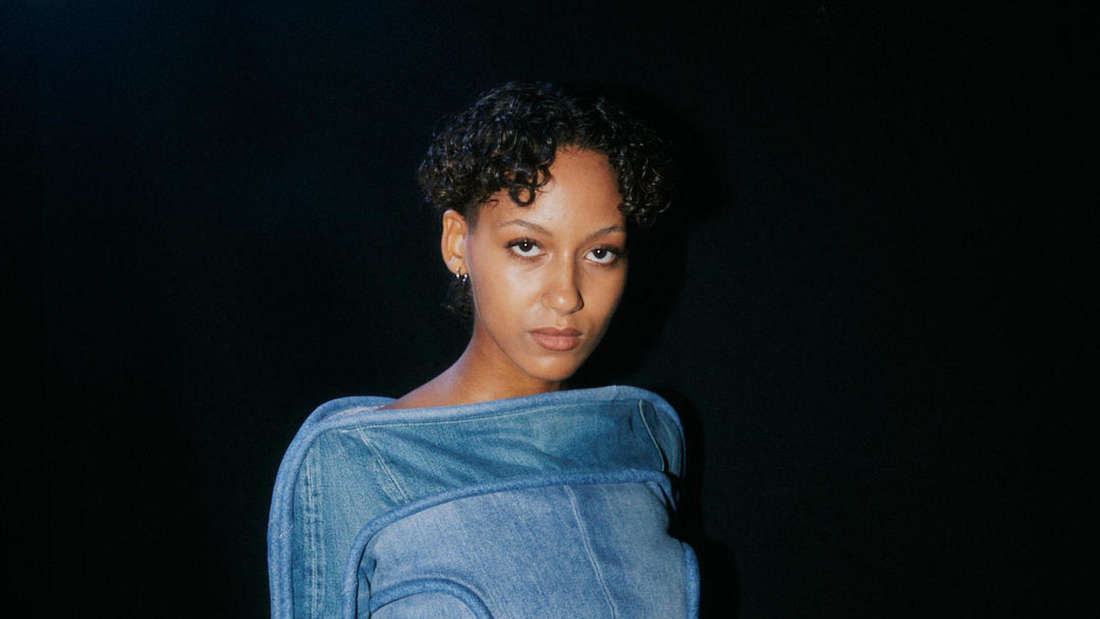 The young Berlin designer celebrated its premiere at the Berlin Fashion Week this season. She also works as sustainably as possible, mainly by upcycling fabric leftovers and surplus goods from other fashion companies. Her "Multiply" collection focused on everyday second-hand materials such as jeans and t-shirts – her attempt to solve the industry's textile abundance problems through design.
All-over prints and strong silhouettes, curved seams that were not concealed but emphasized by bulge-like fabric elements gave the garments something lively and aroused curiosity about other collections.
LML Studio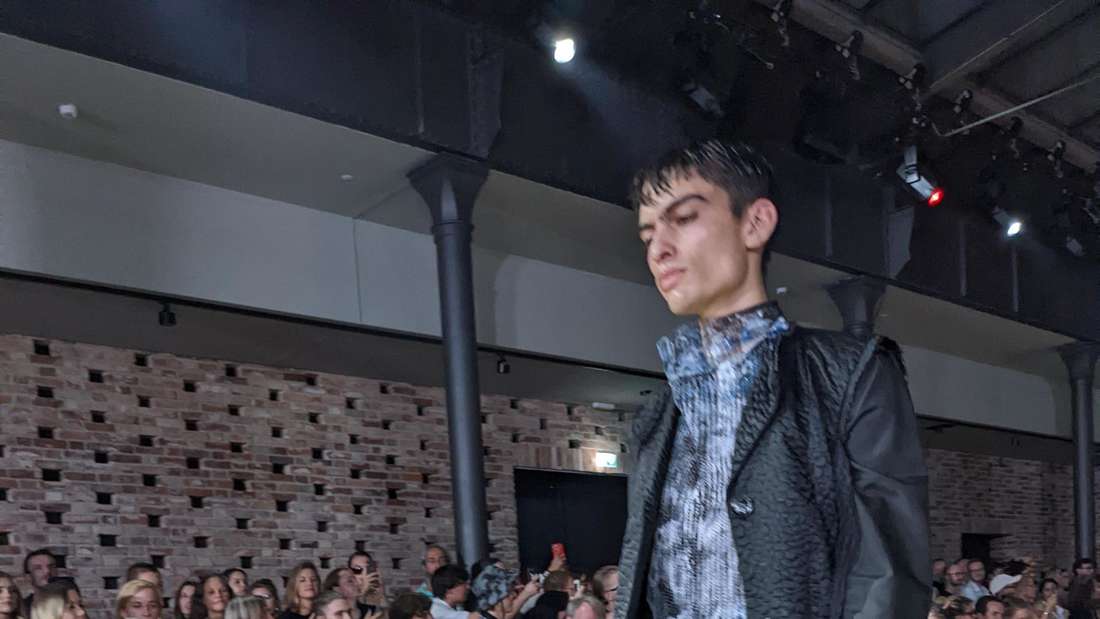 Designer Lucas Meyer-Leclère greeted his audience with a speech of thanks to everyone who supported his collection – recorded with his voice as a first model walked the runway. An extraordinary start to an extraordinary presentation – a mixture of runway and performance.
Meyer-Leclère's motto: "remake, reuse, reassemble, recombine". His way of working: taking apart existing clothing, destroying it, putting it back together again and painting it. The result: open seams, hanging threads, torn clothing, contrasted with skilful tailoring.
The French designer, who already designed fabrics for Chanel under Karl Lagerfeld, was a real stroke of luck for the Berlin fashion week – and his show was one of the highlights.
Kilian Kerner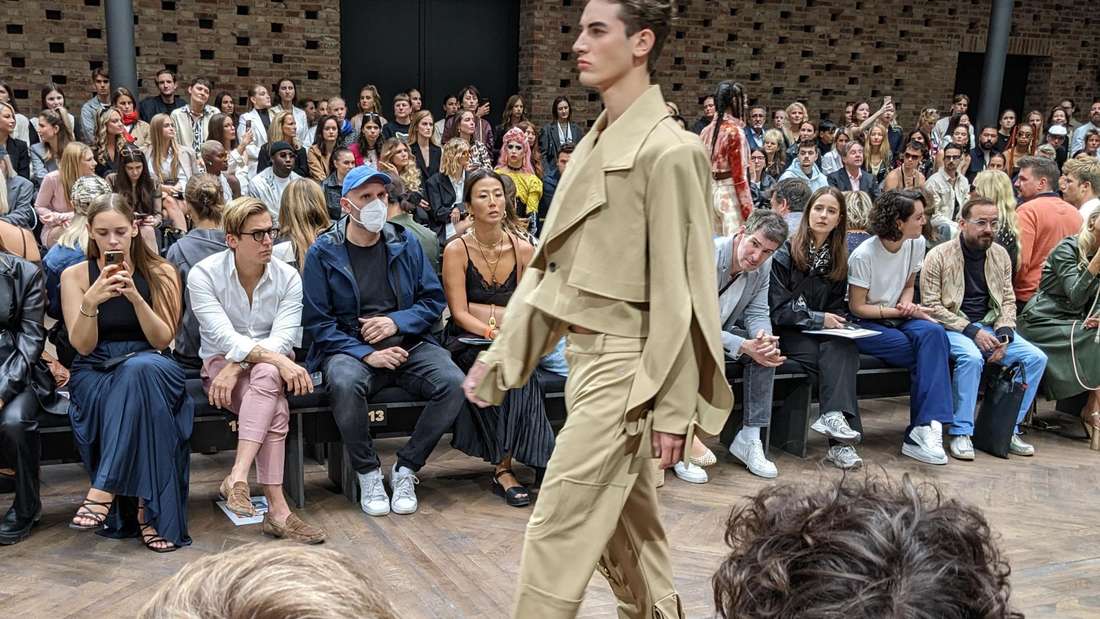 Kilian Kerner convinced again with strong silhouettes. Plain and transparent fabrics were joined by more opulent materials such as corduroy and sequins. Details such as pockets and openings on the trouser legs, inspired by cargo pants, jackets that look like they have been pulled over one another, and open sleeves make classic cuts extraordinary.
Dawid Tomaszewski
Dawid Tomaszewski captured his new collection on celluloid: Four of his typically delicate, delicate creations could be experienced live at a reception in the Humboldt Forum, and the others in the form of a formidable film screening.