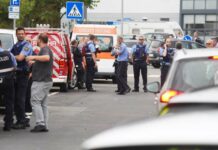 Why is someone stabbing three people? The police in Ludwigshafen are still looking for answers – and also rely on the help of witnesses in their work.
Ludwigshafen – After the deadly knife attack in Ludwigshafen, the investigators look at the background and the motive for the crime. The police also rely on the help of witnesses in their investigations: "We hope for further information from the population to clarify the crime," said the officials.
A 25-year-old is said to have attacked three people with a knife in the Ludwigshafen district of Oggersheim yesterday. Two men, aged 20 and 35, died and a 27-year-old was seriously injured. Officers stopped the suspect at a drug store and shot the man in an attempt to stop him. He was seriously injured and arrested.
Rhineland-Palatinate Minister of the Interior praises the police
The background to the attack was initially unclear. The Rhineland-Palatinate Minister of the Interior Michael Ebling (SPD) said that investigations were being carried out "in all directions". The police headquarters in Ludwigshafen is in the middle of the investigation. The State Criminal Police Office was also involved. Ebling spoke of a shocking and horrific act. It is thanks to the "courageous intervention" of the police that "the alleged perpetrator no longer poses any further danger".
Police say the suspect is a Somali national. According to previous knowledge, the three victims of the knife attack were Germans.
Officials set up a witness drop-off point near the crime scene, which was also scheduled to open on Wednesday. The police asked for information, photos and videos of the crime to be forwarded. To do this, the investigators activated a portal on the Internet and set up a hotline. The officials also called on Twitter witnesses to report: "Support the police investigation with your information!" It said. dpa