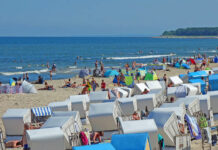 Deadly drama on the Baltic Sea beach: a vacationer died on Sunday evening. The 53-year-old called for help.
Zinnowitz – A man died in a swimming accident on the beach at Zinnowitz. The 53-year-old died while swimming in the Baltic Sea, the Neubrandenburg police said on Monday (August 22). The vacationer from Saxony-Anhalt was swimming in the Baltic Sea when he suddenly called for help, according to the police.
Fatal swimming accident on Usedom: vacationers swim in the Baltic Sea and suddenly call for help
Relatives pulled the vacationer out of the water, immediate resuscitation was unsuccessful. Even the emergency doctor could only determine the death of the 53-year-old. The police have started investigations, according to the police, who were alerted at around 7 p.m. The authorities initially gave no information on the cause of death. (ml)
A mother just wanted to take a photo of her son on the pier in Zinnowitz in the summer of 2021. The boy (2) lost his balance and fell into the Baltic Sea.