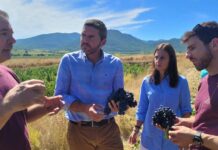 The winegrowers from the Murcia region are hoping for an excellent wine harvest. The demand for Murcian wines is increasing. This article tells you which drop has made it to the top internationally:
Murcia – The wine harvest in the Murcia region in south-east Spain is in full swing. The winegrowers hope to bring in 80,000 tons of grapes. Agriculture Minister Antonio Luengo emphasizes the excellent quality of Murcian wines. A prime example is a red wine from the Jumilla wine region, which is particularly well received by critics, as reported by costanachrichten.com.
Something is also happening in organic winegrowing in the Murcia region. A bodega has been dedicated to the philosophy of organic cultivation since 2005. The state government and winegrowers are banging on the advertising drum with cultural events, excursions and wine tasting.