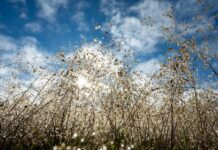 There will be two more days of sunshine and mild temperatures across the country. But it could get stormy this weekend.
Offenbach – At the weekend, an autumn storm could move through Germany for the first time this year. So far, however, it is uncertain how strong the wind will blow in which areas, said meteorologist Adrian Leyser from the German Weather Service (DWD) in Offenbach on Wednesday.
First of all, it will be a bit friendlier in Germany on Thursday and Friday. The sun comes out more often, the temperatures rise and the rain clouds become fewer.
Temperatures of up to 15 degrees are possible on Thursday, and it will be warmest on the Lower Rhine. With changing clouds there are always sunny moments, showers are rare. Only near the Alps and on the North Sea do clouds dominate and it rains at times. On Friday it will be a bit warmer with highs of 17 degrees, clouds and sunshine will alternate again. There is most sun in the north and north-east.
In the night to Saturday the weather will be uncomfortable again. In the west and northwest it rains, sometimes heavily. There, as well as in parts of the low mountain range, the wind is already picking up, strong to stormy gusts are possible. During the day the temperatures are between 13 and 17 degrees, on the eastern edge of the Alps they scratch the 20 degree mark. During the day, thick rain clouds will move across the country from the north-west, accompanied by the wind. dpa