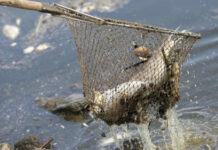 German laboratories continue to research the cause of the massive fish kill in the Oder. Poland's government speaks of false reports from Germany.
Warsaw/Frankfurt – The cause of the massive fish kill in the Oder is still unknown. More than 36 tons of dead fish have now been pulled out of the Oder in Germany alone. The Berlin-Brandenburg state laboratory has now found elevated levels of pesticides in the Oder. The Polish government therefore speaks of false reports from Germany.
Fish deaths in the Oder: Poland contradicts findings from Germany
On Saturday (August 20), the Brandenburg Environment Ministry announced that high concentrations of a pesticide containing the active ingredient 2,4-dichlorophenoxyacetic acid had been found in the Oder. The active ingredient is used, for example, to combat weeds. However, the detected dose is not directly lethal to the fish. The Ministry of the Environment continues to assume that there are several causes for the environmental disaster.
Poland's government contradicts these findings and accused Germany of spreading fake news. "Attention, another fake news is being spread in Germany!!! pesticides and herbicides. In Poland, the substance was tested and found to be below the limit of quantification, ie with no effects on fish or other animals and no link to fish kills," Poland's Environment Minister Anna Moskwa wrote on Twitter on Saturday evening.
Poland criticizes Germany: "Unjustified attack on agriculture"
The substances were not detected in fish, Moskva said in another tweet, "An unjustified attack on agriculture. First industry, now agriculture? What's next?" Poland's national conservative PiS government is not only under pressure domestically because Polish authorities were hesitant to react to the first indications of the fish kill.
Criticism also came from Germany that Polish authorities had not complied with the internationally agreed information chains. Representatives of the PiS repeatedly responded with anti-German tones – and with attacks on the Polish opposition. (sf/dpa)