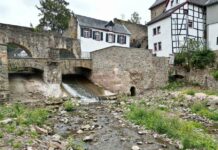 What a difference: In July 2021, destructive masses of water rolled through Bad Münstereifel. In this dry summer, the river seems like an innocent trickle.
Bad Münstereifel – In the July flood of 2021, the water in Bad Münstereifel in the Erft was several meters high. Currently the water level is only a few centimeters:
The river bed consists mainly of gravel and stones, through which a narrow band of water flows. The water levels are so low that water extraction has been banned by the authorities.
Construction workers are still on the move in the medieval town, which was badly hit by last year's July flood. They repair the flood damage. The restoration of the Erft walls is not yet complete.
No water may be withdrawn
But most of the paving in the city center has been completed, shops have reopened and tourists are returning. "A lot has happened," reports one visitor.
Unlike a year ago, the Erft presented a riverbed with little water in mid-August 2022. "There isn't much flow, unlike a year ago," said an expert. This is also underlined by the level data. In July 2021, a maximum of 380 centimeters was measured at the Eicherscheid level above Bad Münstereifel. In those days it was 15 centimeters there.
Because of the ongoing drought, no water can be withdrawn in Bad Münstereifel and many other places on the Erft for the time being. At almost 70 kilometers on the upper reaches of the river, it is forbidden to pump or suck water from the Erft or to draw it with hand vessels, as the Cologne district government announced.
The general decree is initially valid until the end of September. It is designed to protect animals and plants. According to the district government, there is a risk of disruption to water ecology and the water balance. A significant improvement is currently not foreseeable. Local, short-term precipitation is initially mainly absorbed by the vegetation and is not noticeable in the water levels. dpa