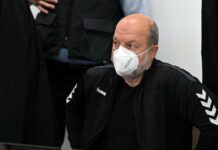 Based on surveillance videos, a forensic scientist identified Reemtsma kidnapper Thomas Drach as the perpetrator with "high probability". Accordingly, among other things, "stomach approach" and "size and structure of the buttocks" were correct.
Cologne – In the trial against Reemtsma kidnapper Thomas Drach before the Cologne district court, an expert identified the 62-year-old on Thursday with "high probability" as the perpetrator. According to the picture, video and digital forensic scientist Georg A. Rauscher, Drach had a probability of "95 to 99 percent, with a tendency towards a lower value", for the robberies on valuables transporters in front of Ikea branches in Cologne and Frankfurt/Main as well as on Cologne/Bonn Airport perpetrated.
Drach's "waddle walk" is characteristic
For his report, the expert had resorted to surveillance videos on which the raids had been recorded. He wanted to use the recordings to determine numerous matching characteristics such as body height or arm and leg length. According to his statement, "stomach" and "size and structure of the buttocks" matched as well as numerous facial features. There are "no non-matching features" between the filmed person and Drach, Rauscher said. He also described Drach's "waddle walk" as characteristic, which was caused by his knock-knees and tilted hips.
Drach did not agree with the expert's statements and interjected: "Mr. Chairman, the expert is lying." The defense attorneys for Drach and the Dutch co-defendant were also not very convinced of the expert opinion. According to the public prosecutor, there were no video recordings of a robbery in Limburg that Drach is accused of.
Drach is also charged with attempted murder
In addition to particularly serious robbery, Drach is also accused of attempted murder in four cases. The German is said to have shot two money messengers and seriously injured them.
In 1996, Drach kidnapped the heir to the tobacco group, Jan Philipp Reemtsma, and only released him after paying a ransom. Drach was sentenced to fourteen and a half years in prison for the crime. dpa