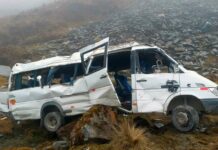 The ruined city of Machu Picchu is a popular tourist destination in Peru. Four vacationers were killed in an accident with a bus.
At least four vacationers died in a bus accident near the ruined city of Machu Picchu in the Peruvian Andes. The bus went off the road and fell into a ravine about 100 meters deep, the police said on Monday. 15 other people were injured in the accident. Most of the passengers were foreigners.
Among the injured were tourists from France, the Netherlands, Greece, Israel, Canada and Argentina. The dead have not yet been identified.
Difficult salvage work
At the time of the accident, visibility was very poor due to fog and rain. The rescue work in the mountainous region was also difficult, as a police spokesman told radio station RPP.
According to media reports, the tourists had previously visited the Inca ruins of Machu Picchu. The ruins of Machu Picchu are one of the most important tourist attractions in South America and have been a UNESCO World Heritage Site since 1983. The city was built by the Incas in the 15th century and consists of around 200 buildings. Up to 3000 tourists visit the ruins per day. dpa