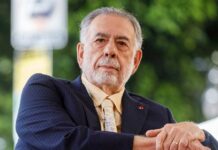 US actor Dustin Hoffman joins the ensemble cast of the film "Megalopolis" by Francis Ford Coppola. For the star director, the film is a heart project.
San Francisco – Oscar winner Francis Ford Coppola (83, "The Godfather", "Apocalypse Now") is expanding the star cast for his heart project "Megalopolis". Oscar winner Dustin Hoffman (85, "Rain Man") has now joined the ensemble cast, as reported by the industry portals "Deadline.com" and "TheWrap.com". Filming is slated to begin later this year in Georgia.
The cast includes Adam Driver, Nathalie Emmanuel, Aubrey Plaza, Laurence Fishburne, Shia LaBeouf and Jason Schwartzman, among others. The director also wants to bring his sister Talia Shire and British Kathryn Hunter in front of the camera.
The director and screenwriter had already spoken of "Megalopolis" in the 1990s. The planned future utopia is set to take place in a futuristic New York. However, Coppola compares the concept to a Roman epic in the style of "Ben Hur". He wants to question forms of society and initiate thought processes. Coppola financed the film with a budget in the millions from his own pocket. dpa