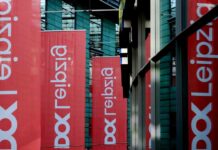 The Leipzig documentary film festival Dok finally took place again with full halls – albeit with fewer guests overall than before the corona pandemic. Nevertheless, there are already plans for next year.
Leipzig – A striking number of young people came to Leipzig last week to be part of this year's International Festival for Documentary and Animated Film (Dok). "We have managed to reach a new audience," said doc boss Christoph Terhechte at the presentation of the festival prizes on Saturday evening in Leipzig. After two years of the corona pandemic, not all visitors have returned to the cinemas, but it was overwhelming to be back in full halls.
A total of 255 films by international filmmakers selected by a jury were shown during the festival week. 74 films competed against each other in various competitions for the silver and gold doves, the main awards of the festival.
The Colombian Theo Montoya received the main prize of the international film festival. For his film "Anhell69" he was honored with the 10,000 euro golden dove in the International Long Documentary and Animated Film Competition. For the first time this year, the organizers, together with the Saxon State Institute for Private Broadcasting and New Media, also awarded a silver dove to a young director for the best documentary or animated film in the International Short Film Competition.
Leipzig becomes international
With the new "Panorama" format, the organizers wanted to further strengthen the festival's focus on Central and Eastern Europe this year. "First of all, we are a Leipzig, an East German, a German festival – then comes first Central and Eastern Europe and then the whole world," said Terhechte. Many visitors appreciated the festival's view of Eastern European countries such as Slovenia, Poland and the Czech Republic.
Among other things, the films "Infinity According to Florian" by Oleksiy Radynski and "Mountains and Heaven in Between" by Dmytro Hreshko could be seen at the documentary. Both were supposed to be shown this year at the Ukrainian documentary film festival DocuDays UA, which, however, could not take place after the outbreak of the Russian war of aggression in Ukraine.
The Doc Festival also provided a stage for Russian artists. For example, the work "Dragzina" by Nikita Shokhov and Masha Vorslav was shown as part of an exhibition at the Leipzig Museum of Fine Arts. It addresses how the Russian LGBTQI scene – i.e. people who identify as lesbian, gay, bisexual, trans or intersex – is encountering an increasingly hostile climate within society.
This is how it goes
Next year the Doc will take place between October 8th and 15th for the 66th time. "And it should be even bigger than this year," announced Terhechte. However, that does not mean that more films should be shown: "On the contrary: we want to reduce the number of films. But there is still room for improvement as far as visitors are concerned." Among other things, the plan is to include more venues in the program in order to create more opportunities for participation in the festival, said Terhechte. "I would say there is still something." dpa