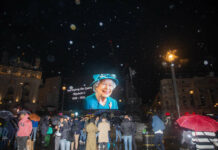 The world is mourning the loss of the late monarch Queen Elizabeth II. The Queen's funeral will take place on September 19th. These transmitters transmit the event.
London – Queen Elizabeth II passed away last week. Several heads of state have already announced that they will be present at the funeral. Among the guests will also be US President Joe Biden. It is likely that the funeral will be broadcast on television. Several providers will broadcast the event. However, it is still unclear who will do this in Germany.
Queen Elizabeth II's funeral will be broadcast live on TV. The British TV channels BBC, ITV and Sky and the American channels NBC News, CNN, Fox News and ABC have announced that they will start broadcasting live on the morning of September 19th. The BBC will also stream the funeral live online. British TV stations can expect high ratings: Princess Diana's funeral was watched by two billion viewers around the world in 1997, as reported by ruhr24 .
British TV channels
BBC
itv
sky
US TV station
NBC News
CNN
FoxNews
ABC
Queen's funeral: German broadcaster for transmission still unclear
The German TV broadcasters have not yet announced any concrete plans, but it can be assumed that Queen Elizabeth's funeral will also be broadcast live on TV in Germany. The funeral of Queen Elizabeth II's husband, Prince Philip, in 2021 could give a first indication of the broadcast.
Prince Philip's funeral was broadcast live by RTL and ARD in April 2021. With regard to Queen Elizabeth II, however, other broadcasters, such as ZDF and Sat.1, could follow suit and also broadcast the funeral live. After the Queen's death, the broadcasters changed their program at short notice and switched to special programs.
Funeral of the Queen: This is how the ceremony works
It is currently not clear whether the entire funeral will be broadcast in Germany. However, the rough course of the ceremony on September 19 is already certain: Several British media report unanimously that on the day of the funeral, the coffin of the deceased Elizabeth II is to be pulled through the streets of London on a gun carriage. Queen Elizabeth will be accompanied by members of the royal family. The funeral service will then take place in the well-known church of Westminster Abbey. Queen Elizabeth II will be buried later that evening after another private funeral service alongside her husband Prince Philip and her father, King George VI. at St. George's Chapel in Windsor. (LP)