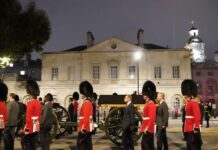 In order for everything to work out, thousands of soldiers rehearsed the procession in the middle of the night.
A dress rehearsal for the procession of Queen Elizabeth II's coffin took place in London in the middle of the night. The coffin is due to be driven from Buckingham Palace to Parliament on Wednesday, where it will be laid out in Westminster Hall for several days.
Before sunrise on Tuesday, thousands of soldiers in ceremonial uniforms and a carriage drawn by seven horses rehearsed for the procession.
Instead of the coffin with the queen who died on Thursday, a black coffin was placed on the carriage at the rehearsal. The new King Charles III is said to be behind the dead Queen on Wednesday. and other members of the Royal Family, who were replaced by extras during the night. A number of streets in central London were closed to the procession.
Contrary to official instructions, some die-hard royalists have already pitched their tents along the route to ensure a good view of what is happening. Brit Sky London wants to stay with his friend John Lowell until after the Queen's state funeral on September 19. "Ten days of camping is nothing compared to 70 years on the throne," he told the PA news agency. dpa