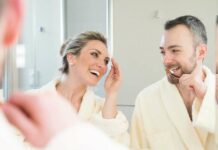 The marketing of skin care products and cosmetics for men and women differs enormously. But that is slowly changing: you can also find many unisex products on drugstore shelves.
Berlin – the scent of roses for women, icy notes for men. Soft tones for her, tough action for him: do you feel addressed by the cosmetic products advertised in this way? Not everyone does that. Because gender norms are being questioned more and more often. Therefore, more and more cosmetics companies are bringing products onto the market that are not consciously assigned to women or men.
This is referred to as "gender-free cosmetic", i.e. gender-neutral products.
This is nothing new: the first well-known unisex product in this segment was a perfume that came onto the market in the 1990s: "CK One", a popular classic fragrance with many by-products to this day. And when it comes to perfumes, there is now a larger range of unisex products.
More inconspicuous bottles and packaging
"A large number of bottles and packaging no longer allow any conclusions to be drawn about a supposed gender bond in their appearance or advertising," says Martin Ruppmann from the VKE cosmetics association. "Especially with the so-called artistic brands, i.e. the niche fragrances, no distinction is made. The focus here is even more on the scent experience."
On the other hand, the flacons and packaging of the fragrances are rather reserved in design and do not use gender-typical colors or decorations. Ruppmann, who is also the managing director of the Fragrance Foundation Germany, an association of perfume and cosmetics companies, speaks of "neutrality through reduction".
There are also unisex products when it comes to skin care products: They focus more on different skin types and their respective needs. After all, men and women alike struggle with dry, oily or sensitive skin.
Incidentally, the gender-neutral presentation and focus of many care products has long been standard – just think of sunscreen. Also with many body lotions and cleansing products one sees more and more neutral presentations.
Study: only a minority expects the products on the shelf
And does that matter? These products still form a niche in the segment. But the fundamental interest is there, at least according to a survey by the Bonsai market research institute commissioned by the VKE Cosmetics Association: 65 percent of those surveyed expect products such as sunscreen, body lotion or cleaning products to be unisex.
When it comes to creams, serums and masks, items specifically for women are considered desirable, but 33 percent of those surveyed also expect a unisex range. In the case of decorative cosmetics – i.e. make-up and make-up products – at least 15 percent would like products without a specific gender assignment. dpa