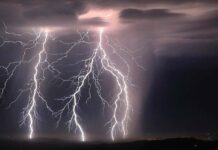 On Mallorca, two men were surprised by a storm and struck by lightning. They had stayed in a popular bathing bay in the northeast of the island.
Palma – A vacationer from Germany and one from Switzerland were struck by lightning during a storm on Mallorca on Thursday. The two men were on a beach in Cala Mesquida, a popular bathing bay in the north-east of the island, when the storm suddenly hit, the police said. The German was 51 years old, the Swiss 65. There was no further information on the origin and identity of the victims.
One of the men, who did not know each other, was struck first by lightning when he wanted to close his parasol in the face of the onset of rain. He was dead instantly. The lightning then shot to the other man about 15 meters away. He was initially still alive, but died shortly afterwards despite the efforts of rescue workers. The wife of one of the vacationers had to watch the accident and was given psychological care.
The storm front came up quite suddenly. The Spanish weather service Aemet initially predicted sunshine, a few clouds and at most a few raindrops. In the early afternoon, thunderstorms and heavy rain were suddenly warned in the north-east of the island. There could be more storms in the coming days. At the beginning of the week, the heat also returns to the popular holiday island. Temperatures of up to 37 degrees are expected. dpa