The death of Queen Elizabeth II is difficult for her great-grandchildren to understand. Prince Louis, of all people, shows particular foresight about their loss.
Windsor – Queen Elizabeth II (96, † 2022) left a void in the British royal family and the world of nobility that is difficult to describe in words. Not only was she an extraordinary regent, but also a beloved mother, grandmother, great-grandmother and much more. The pain after her death runs deep, even with the youngest royal generation.
Queen Elizabeth died at 96: George, Charlotte and Louis mourn their "Gan Gan"
The death of Queen Elizabeth II on September 8 has sparked a wave of sympathy. A sea of flowers in front of Buckingham Palace in London is reminiscent of the exceptional regent, and there are also numerous floral arrangements and cards in front of Windsor Castle. The mourners gathered there were even able to deliver their condolences in person. Accompanied by Prince Harry (37) and Meghan Markle (41), Prince William (40) and Kate Middleton (40) received flowers in Windsor and also shared moving words.
The Duchess of Cornwall and Cambridge confided in waiting children how her youngest son Prince Louis (4) reacted to the death of his great-grandmother. "Louis said at least Grannie is with great-grandfather now," Kate said, according to royal expert Robert Jobson. Queen Elizabeth's husband Prince Philip died on April 9, 2021 after 73 years of marriage at the age of 99.
Duchess Kate of Cornwall and Cambridge: Well prepared for her future role as royal consort:
Queen biographer Sally Bedell Smith told People that the Duchess studied Queen Elizabeth II so as not to leave anything to chance when her time came. "She knows what matters. She'll have absorbed a lot from that queen," Smith said.
Despite being 56 years apart, the late Queen and Kate share similar attributes that the role of Queen entails: stoicism, discretion and loyalty. It remains to be seen how the Queen's royal motto for public life: "Never complain, never explain" is ordered.
Queen Elizabeth has spent many happy hours at Balmoral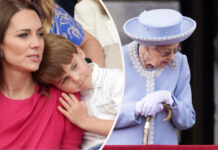 Their "Gan Gan", another nickname given to the Queen by the Cambridge offspring, is said to have recently visited Prince Louis and his siblings Prince George (9) and Princess Charlotte (7) at Balmoral Castle. In the Scottish residence, where the Queen died on September 8, she always spent her summer break of several weeks, which she filled with walks, family visits, etc.
The last days of Queen Elizabeth II in Scotland are said to have been "full of joy". The fact that her eventful life and her long reign ended so peacefully is also a source of comfort to the Royal Family in these difficult hours. Sources used: twitter.com/theroyaleditor
All news about Queen Elizabeth II also summarized in our compact newsletter. Sign up here.